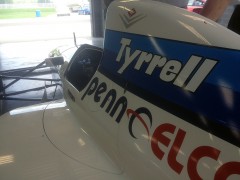 One of Performance Data Solutions' most recent projects was putting a MoTeC system and custom harness into a "vintage" 1994 Formula 1 Tyrrell.
The car came with another brand of data system, but the customer had experience with MoTeC's easy-to-use software, and was really impressed with the new color displays. While the beautiful C185 display logger is the centerpiece of the project, there were many other features that make this a great project.
To eliminate the need for setting up a beacon transmitter at the track, we used a 10Hz GPS unit. MoTeC makes this setup easy, by automatically populating the GPS coordinates at the start/finish line when you select a track in the software. You do not need to determine these coordinates on your own, and best of all, you don't have to worry about charging beacon batteries or forgetting the beacon on the pit wall!
Another great advantage of the MoTeC system, was the ease of integration of the ECU data into the dash for logging and display. MoTeC's pre-made CAN templates worked seamlessly with the existing ECU to provide a full complement of information to the driver and logged data. The prior system wasn't capable of this, and relied on redundant sensors adding complexity, limitations, and weight to the car.
Finally, we used a high-definition camera to record video on the car. The camera is powered through the car, records automatically, and is synced to the data for viewing in MoTeC's i2 data analysis program.
These features, plus the ease of use of the MoTeC software make this V10 powered F1 Tyrrell one hell of a track day car!
For photos of this project, visit our Image Gallery.
For more information on what we can do for your project, contact us today.