Ever wanted to put a logo on your color di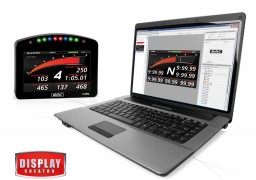 splay or make it look exactly like you want? Now you can with MoTec's Display Creator. The possibilities are endless as you can define its parameters to suit your own needs.
The Display Creator was designed for use with MoTeC's new line of Color Displays and Loggers, and it allows you to fully customize your onscreen graphics. Display Creator software is free to download, and you can use it on anything from your racecar to a boat.
It allows you to generate layouts that are specific to your application, design your own gauges, create unique warning screens, add sponsor logos and use non-English labels.
Here are features for the Display Creator as described on the MoTeC website:
FEATURES
Take full control of your display and optimize the screen space for your application
Create custom graphics, icons and messages – add as many or as few elements as you like
Choose which parameters you want to see and the way you want to see them
Import images and illustrations for use as backgrounds or active components
Put your team or sponsors' logos/colours in the spotlight by incorporating them in the onscreen graphics
Create a multitude of pages to suit various scenarios – the number available to each user depends on the memory intensity of page designs but most users will never reach their limit
Display multiple alarms and design the most effective warnings for each
Create non-English labels
Incorporate your favourite TrueType fonts – designs are not limited by a handful of system fonts
For more information or to download click here.